THE DIRECT ROUTE TO YOUR BUSINESS AND
PRIVATE JET CHARTER FLIGHT
Are you interested in a charter flight on a private jet?
Then simply and quickly request your E-Aviation private flight to your chosen destination.
You will receive your personal, no-obligation quotation from us very shortly afterwards.
Our business and private flights offer all our passengers greater mobility at attractive prices. Our passengers and our flight service customers benefit from the highest standards of safety, absolute flexibility and first-class comfort at all times. This has been our trademark for 20 years and is the aim of the entire E-Aviation Team every single day.
We are looking forward to welcome you on board. For further informations call: +49 711 997788-0
Fast, safe and exclusive – to your desired destination in Europe
Reach your destination comfortably


Take advantage of our VIP service on the ground and in the air
Enjoy your flight and our first class catering


POPULAR DESTINATIONS - PRIVATE JET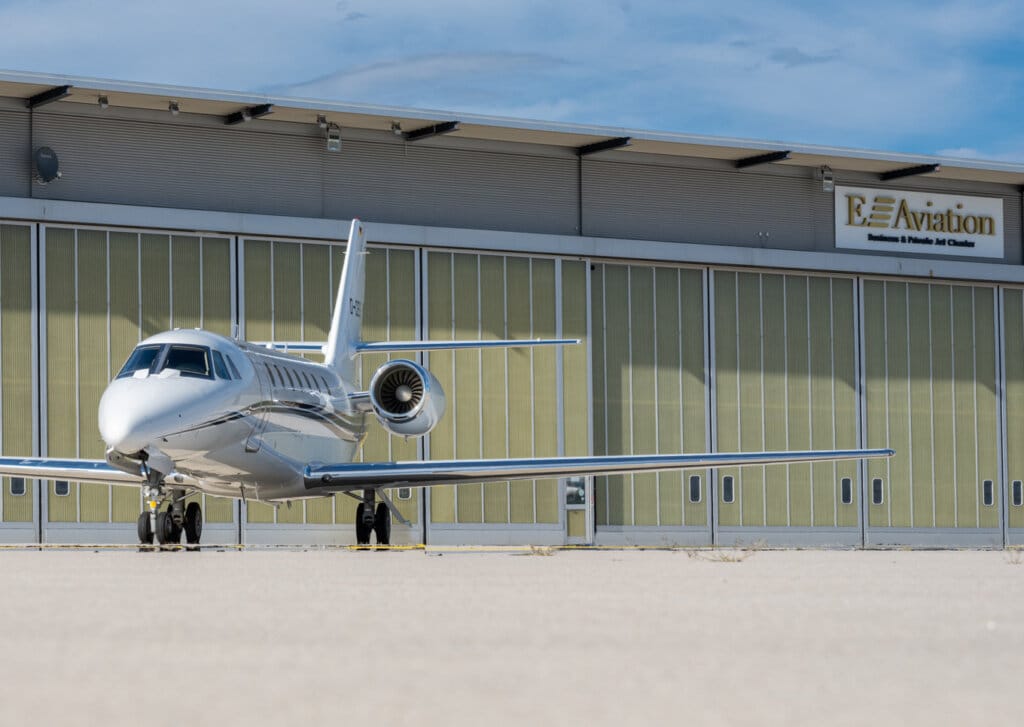 JETS AND SERVICES FOR BUSINESS AND PRIVATE TRAVEL
We accept enquiries and booking requests for your charter flight 24 hours a day, 365 days a year. What can we do for you? The E-Aviation service team will be happy to assist you personally at any time: +49 711 99 77 88-0 / by e-mail. You can also request and charter your private jet directly via our WhatsApp service chat or the online flight booking tool.
FIRST-CLASS SERVICE FOR YOUR CHARTER FLIGHT
Tailored to the duration of each individual flight, we will spoil you on board your private jet with specially selected snacks, refined sandwiches or exquisite warm meals. E-Aviation offers maximum comfort, safety, discretion and reliability not only in the air, but also on the ground. Simply choose which vehicle you would like to be picked up with at the aircraft and chauffeured back in after your appointment.
THE DIRECT ROUTE TO YOUR BUSINESS AND PRIVATE JET CHARTER FLIGHT.
FAST AND FLEXIBLE PRIVATE JET TRAVEL
E-AVIATION FLIES WHEN YOU WANT
What is the advantage of using a private jet?
The main advantage of using a private jet is flexibility. aAnd that is why E-Aviation, one of the leading private jet airlines in Germany, says: "We fly when you want." What's more, check-in is so much more convenient compared to scheduled flights. At E-Aviation in Stuttgart, you park in the monitored car park right next to the private flight terminal where you check in.
Then straight after, the shuttle takes you to your reserved private jet. If there is a slight delay, you can wait briefly in the lounge overlooking the airfield. The time savings are immense compared to conventional flights. No having to get there two or three hours before departure, no queue at the terminal, no queue at security, no waiting on the way to the plane. As a private jet passenger and customer, you can also enjoy many advantages on board: From a small snack to lunch or dinner – an on-board meal prepared by leading caterers can be served if you wish. Time for a glass of champagne? Eisele Flugdient's services and amenities are just as flexible as the flight time: you decide when you want to use which service. Welcome on board!
How many passengers can fly in a
private jet?
Up to nine passengers can travel on a private jet operated by E-Aviation Stuttgart. Of course, the number of passengers depends on the size of the aircraft. For example, the Cessna Citation Sovereign seats eight to nine passengers. Passengers have access to two of these modern jets as part of E-Aviation's fleet in Stuttgart. However, the more passengers there are on a private plane, the less luggage can be carried. Information about passenger numbers and details of available luggage space can be found in the E-Aviation fleet overview. To find out more about the capacities and availability of our private jets, please call the E-Aviation Information Hotline. Book a private jet in just a few minutes. The Cessna Grand Caravan, for example, is miraculously spacious. This Jetprop Platz offers space for up to eight passengers and an above-average amount of luggage space. Would you like to book your private or business flight by private jet from Stuttgart? Do you have questions about the fleet and individual aircraft types? Call now: +49 711 9977880
How long is the lead time for a p
rivate jet charter?
If you want to book a private jet, you are usually in a hurry. And the airlines are prepared for that. Whether private or business flight: E-Aviation in Stuttgart says, "We fly when you want." From a spontaneous family holiday to an urgent business appointment: As soon as you have booked your flight by private jet, you can make your way to the airport. If a suitable jet is available for your needs, you can be in the air within minutes – often less than an hour after your booking. It is precisely this flexibility that you can demand when booking a private jet. Unlike the traditional gate, there is no waiting and sitting around for hours. When travelling on a private jet from E-Aviation in Stuttgart, everything revolves around you and your complete satisfaction. Short and fast routes, no waiting, total reliability and the best on board service. On most jets, you do not have to compromise on the usual on-board entertainment. Call now and ask about our exclusive services when booking your highly flexible private jet.
From which airports in Germany do private jets fly?
Every major airport in Germany has at least one private jet airline. You decide who you want to travel with. Stuttgart is E-Aviation's home base.
The family business founded by Alfred Eisele is dedicated to exclusivity and the best service. Today, ten modern aircraft are available which fly internationally. For example, if you do not want to forgo the advantages of using E- Aviation, then your reserved private jet will come to the airport you would like to fly from. Flexibility and speed – these are the essential characteristics of private aircraft operators. The Eisele Flugdienst fleet can accommodate from four or five up to eight or nine passengers. Would you like to book your private flight with E-Aviation? Contact your broker or E-Aviation in Stuttgart direct. After all, E-Aviation's goal is fully satisfied passengers. And then nothing stands in the way of your trip, whether it is a private flight with the family or a business flight on your own or with your team.
What services are available when flying by private jet?
A flight on a private jet offers exclusive service for all travellers. From a private flight to holiday with family or friends to a business flight with colleagues – or alone: As one of the most recognized private jet airlines, E-Aviation offers its guests a complete, carefree package: shuttle service, excellent on-board service and entertainment as well as a modern aircraft fleet. You cannot get to the airport yourself? No problem! Our chauffeured car will pick you up at home or work. You and your luggage will be brought to check-in safely and on time. And then everything happens very quickly: check-in, security control, shuttle to the plane – and off you go. And if you would like a snack or champagne – just ask anytime. Our flight attendants or co-pilots are always happy to help private flight passengers when they have a request or want information.
Do you want to book a private flight? The team from E-Aviation in Stuttgart will be happy to advise you on the phone. The well-renowned airline's website also summarizes everything that potential customers and current passengers need to know about flying by private jet.
How much luggage can you take on a private jet?

A flight by private jet is pure relaxation. Here, stress is a foreign word. Of course, private aircraft can also carry personal luggage. It goes without saying, however, that capacity is limited. The larger the jet and the fewer passengers on board, the more space the passenger has on the private jet. Eisele Flugdienst, one of the most renowned private airlines in Germany, shows the baggage load available for each aircraft type on its website. As the Eisele service team says, "Call us, we will of course give you any information you want." The Cessna Grand Caravan, one of ten aircraft in the E-Aviation fleet, is a true all-rounder: it can accommodate up to eight passengers – with an above-average amount of luggage. For example, do you want to take golf or ski equipment on board? No problem! E-Aviation's Cessna Grand Caravan is miraculously spacious for private or business flights. E-Aviation staff are at your service when it comes to relaxed travel on private aircraft. Find out more now.